Photographs from where Bahá'u'lláh visited on display upstairs Bahá'í Centre Main Room.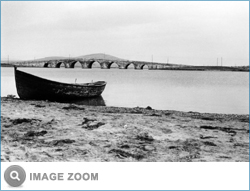 ---
---

This month on display in the Fireside Gallery: The artwork of MIlook Aqiqi downstairs.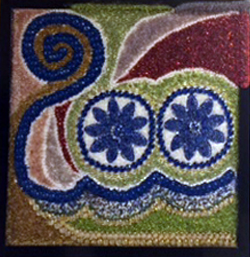 ---
Bahá'í Holy Days
There are eleven holy days on the Bahá'í calendar
more..
---

Ottawa Bahá'í Centre

211 McArthur Ave. K1L 6P6

TEL: 613-742-8250
Map
---

"Bahá'í Perspectives"

is the Bahá'í response to the

"Ask the Religion Experts"

column series

that formerly ran in the Sunday edition of the Ottawa Citizen newspaper. Read here...
---

Subscribe to Community News Feed using your web browser.
---

Subscribe to receive Community News Updates via email:

The Bahá'ís of Ottawa come from a variety of backgrounds, brought together by a common belief in the oneness of humanity and the unity of religion. We work alongside others to become a force of positive change, applying insights from the Bahá'í teachings to bring about a more just, peaceful and unified community.


---

October 3, 2017
Baha'is in Ottawa celebrating significant anniversary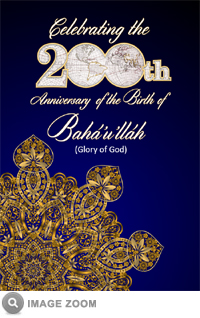 Like their counterparts around the world, Baha'is in Ottawa are celebrating a very significant anniversary in the history of their Faith this year - the 200th anniversary of the Birth of Baha'u'llah, the prophet founder of their religion.

Although the anniversary marks an event in history, it is also a symbol for the belief of Baha'is that the pain which the world's peoples are experiencing, has a light at the end of the tunnel. It is a message of hope, upliftment and empowerment. The event is not only an anniversary it is an affirmation that a process started in the land of Persia in 1817 has begun to impact and transform communities and neighbourhoods around the world - in places like Cambodia, Congo, Colombia, India, Vanuatu, Germany, and Ottawa itself.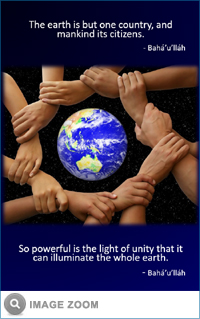 Excitement has gripped the Ottawa Baha'i community and their friends as they organize diverse activities to mark and commemorate the Bicentenary Birth of Baha'u'llah. Although the actual Birth of Baha'u'llah is celebrated on October 22 this year, as many as 100 different activities will be taking place across the city over the coming month, with some events having taken place already. The activities span a diverse range in form and nature, including concerts, creation of a special CD with music, celebrations for children and junior youth, story telling events, and programs which study the life of Baha'u'llah. Long time Ottawa native Tony Michel said "Our family is planning a house concert as our way of celebrating this joyous occasion with our friends and neighbours".

The Ottawa Baha'i website plans to capture some of these Bicentenary activities through pictures and writeups in the weeks and months to come. Stay tuned!
---

September 28, 2017
Ottawa Baha'i Choir enters its 25th year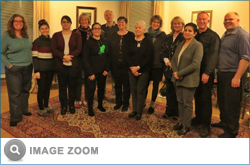 For twenty five years now, the Ottawa Regional Baha'i choir has enriched community life through its spiritually inspired choral music. With a regular influx of new members over this time, the choir has endured as a fixture in Baha'i community life and interfaith events in the region. It traces its roots to the mass choir that was created to perform at the Baha'i World Congress in New York City in 1992. Three Ottawa Baha'is were in that choir, and they brought back with them a body of specially commissioned choral arrangements for Baha'i sacred music. They were joined by several others, eager to sing this "new music" that they had seen performed at the Congress. Over the next few years, other choir members attended choral workshops in Green Acre Baha'i School and elsewhere, further expanding the Ottawa choir's repertoire.

Members of the Ottawa Regional Baha'i Choir have always come from both sides of the Ottawa river, they have been Baha'is and their friends, with different levels of singing experience. There are no auditions for the choir and those new to singing are encouraged to learn as they go. The membership generally has fluctuated between 10 and 16, but has been as large as 24 and is currently 20 members strong. Over the lifetime of the choir, as about 200 members have participated, choir direction has changed hands, often rotating between members. Since 2016 Christopher Barham has been choir director.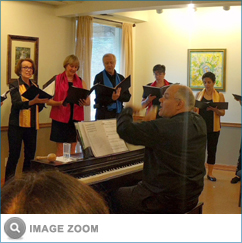 The group regularly performs at Baha'i events and holy day celebrations in Ottawa and Gatineau, and have also participated in many public events, at interfaith gatherings, arts nights, children's classes, senior's residences, hospitals, weddings, memorial services and many other unique events. One memorable performance was at the 1997 Interfaith Service at Notre Dame Cathedral Basilica, led by spiritual leaders from around the world, as part of ceremonies associated with the signing of the International Landmines Ban Treaty.

From its origins in the classical choral music composed for the 1992 Baha'i World Congress, the choir has expanded stylistically. The core of the choir's repertoire is sacred music, primarily musical renderings of Baha'i prayers and writings, but also including Jewish and Christian songs. The choir has also performed selections from a growing body of Baha'i Gospel music. Linguistically, most of the songs have been in English and French, but the choir has also performed pieces in Arabic, Farsi, Hindi, Ukrainian, Latin and several African languages. The choir is currently exploring pop songs, an old English folksong and musical stage pieces that touch on universal themes.

The choir's next performance will be at a large public event to commemorate the 200th anniversary of the Birth of Baha'u'llah. All are invited to attend this event and new members to the choir are always welcome.
---

June 23, 2017
The Continuing Persecution of the Bahá'ís in Iran

Ottawa Bahá'ís reflect on the resilience of family members in face of ongoing persecution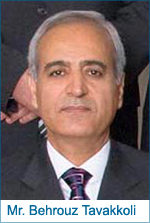 At age 66, Behrouz Tavakkoli is entering his 10th year in prison in Iran. His crime: helping to administer the affairs of the Bahá'í Community of Iran. Suffering from severe kidney and joint problems, he and the other six leaders of the Bahá'í Community face another year in prison. They are among 93 Bahá'ís who are currently in prison solely because they are Bahá'ís. In Iran, the rest of the Bahá'í community faces constant difficulties. Since the 1979 revolution they have been systematically persecuted in every facet of their lives. They are denied government jobs, private sector employers are pressured to fire them, their shops are closed, their cemeteries are destroyed and their properties are seized. Bahá'í youth are denied access to university or college, and Bahá'ís are constantly bombarded by anti-Bahá'í propaganda in the media.


Behrouz's son, Naim Tavakkoli, lives here in Ottawa. He describes how his father was a social worker who worked in rehabilitation centres with clients who had physically and mentally disabilities. It was a job he loved, but following the 1979 revolution he was let go and then worked as a carpenter to support his wife and two sons. His main goal then became service to the Bahá'í community. He was later chosen to be one of seven leaders responsible for the administration of the affairs of the Bahá'í community in Iran. He was arrested briefly in 2005 and after four months in solitary confinement, he developed serious kidney and joint problems. Upon his release from prison, he continued to serve the community. Naim explained that "when it comes to serving the Faith," his father "fears nothing, absolutely nothing." He was arrested again in 2008, and the last time that Naim saw his father he was in prison and could hardly walk, dragging his leg behind him. His son characterized his father as "an ordinary person, called upon to do extraordinary things."


Ottawa Bahá'í Parvaneh Vafaie was a nine year old girl in Iran when her father Rahman-Vafaie-Saadi was arrested in the middle of the night. He was in prison for two years that first time. She remember one time when she visited her father in prison, he made a victory sign and she saw the guards kick him and hit him hard on the back and on his leg. After being released, he continued to work actively for the community, providing marriage counselling, holding Bahá'í study groups, hosting youth gatherings in his home and talking about the Faith to anyone who showed any interest. He was arrested two more times, held for brief periods and then, in 2012, he was imprisoned for two years.

Parveneh explained that today her mother and father are not sure when they might be arrested again. People are always watching them, monitoring who is coming or going in their house. However, she explained that people like her father, because they are working for Bahá'u'lláh, are happy no matter how much suffering they undergo. And for their families it is the same; in the face of persecution they feel happy and proud to be Bahá'ís.
---