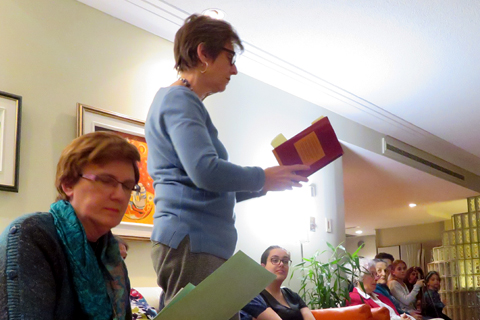 In addition to personal prayer and meditation, Bahá'í communities hold regular devotional gatherings for collective worship. These gatherings unite people in prayer and awaken their spiritual susceptibilities. more...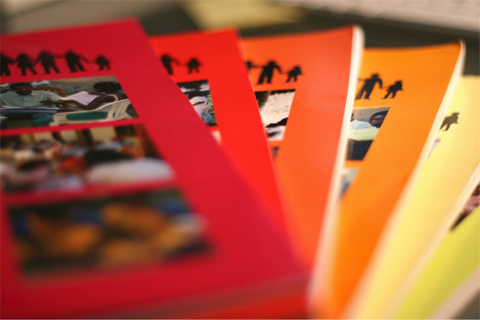 Study circles bring groups of people together to deepen their understanding of the Bahá'í teachings through systematic study. This involves structured group discussion of passages from the Bahá'í writings that encourage reflection on one's moral purpose and capacities for service.
more...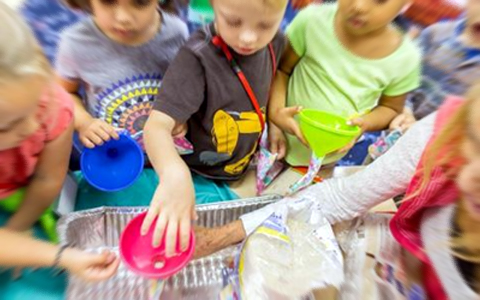 Bahá'í children's classes are offered to all children between 6 and 10 years old for their spiritual education and moral development. The aim of these classes is to inspire in each child a love for our diverse human family and to cultivate a praiseworthy character. They are guided by the Bahá'í belief that children are noble beings with great potential to develop into upright and active participants in their community.
more...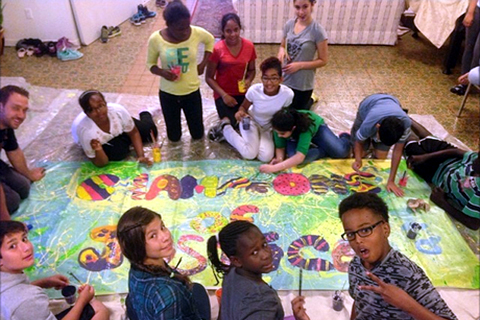 Junior youth – or those between 11 and 14 years – are at a crucial stage in their lives when they are defining their identity and values. Junior youth groups offered by the Bahá'í community address the needs of these young people by helping them to develop a strong moral identity and to empower them to contribute to the well-being of their communities. more...






---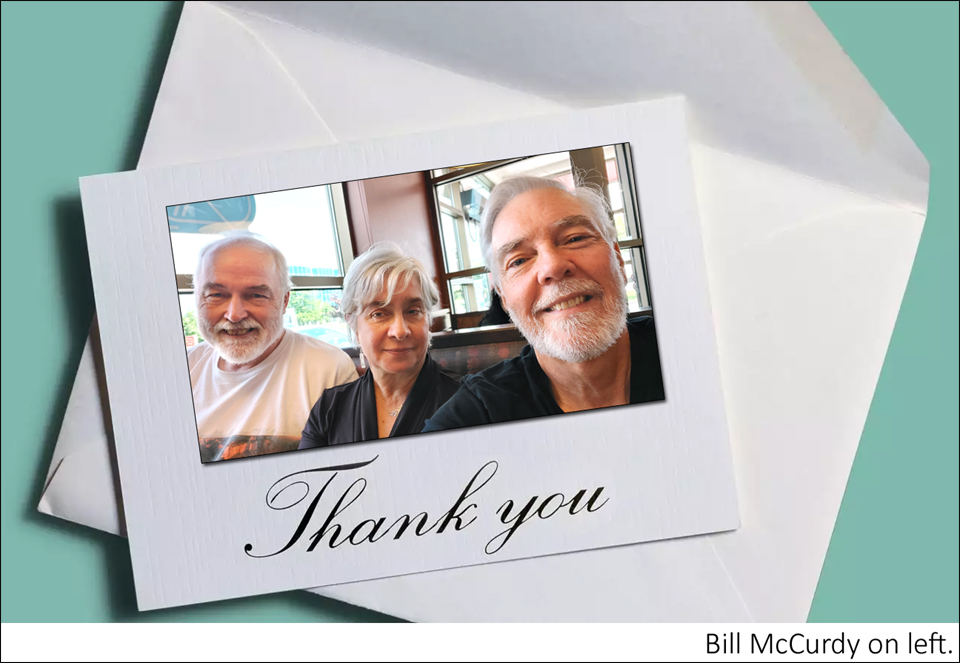 Thank you! Our website team is losing a valued member…our statistical analyst Bill McCurdy. Bill and his wife Judy are moving to Thunder Bay to be with their daughter and her expanding family. Gentle, soft-spoken but packing a huge heart and a first-rate brain, Bill has always expressed an unswerving willingness to serve. We want to thank Bill and Judy for the dedication they have brought to both the Ottawa Bahá'í community and the Ottawa Bahá'í website. We will miss your quiet wisdom, Bill, and thanks for making all these stats so comprehensive and navigable!


---

Big Ideas returns with NINETEEN TOUR
An Inspirational Musical Book Tour
19 Insights learned from a 19 year old with cancer
with Author Adam Robarts & Muscian Luke Slott
For details about this series, click here.
Sign up to receive information and announcements on future Big Ideas talks and Events here.



---

---

Ottawa Bahá'í Centre

Bookstore hours:
Tuesdays, Wednesdays, and Thursdays from 11:00 am to 1:00 pm - (closed on Bahá'í Holy Days and civic holidays)



Ottawa Bahá'í Centre's online Public Events:

click here.
---


August 30, 2022


Racial Justice as Part of Climate Action
Justice is not limited, it is a universal quality. Its operation must be carried out in all classes, from the highest to the lowest. Justice must be sacred, and the rights of all the people must be considered. Desire for others only that which you desire for yourselves. Then shall we rejoice in the Sun of Justice, which shines from the Horizon of God.
— 'Abdu'l-Bahá, Paris Talks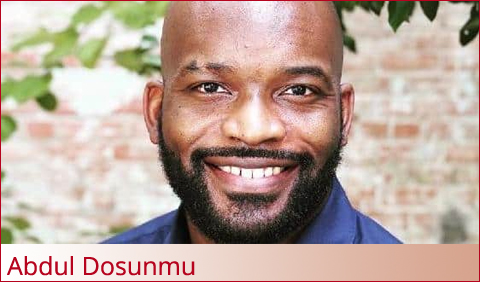 Most Canadians would agree that all people should have equal access to healthy and sustainable living conditions. However, Indigenous persons and people of colour are much more likely to live in neighbourhoods and communities with polluted air and contaminated water or soil.

The Bahá'i World Centre encourages us to work hand in hand with people of all faiths who are working towards the progress of humanity to help mitigate human suffering and bring about a spiritually united humanity. The Ottawa Cluster Environment Group recently hosted an online presentation by a young African American public policy advocate, Abdul Dosunmu, who has researched this phenomenon and leads an organization to help remedy it. Dosunmu grew up in Dallas, Texas where a largely Black and Hispanic community housing complex was constructed on land adjacent to a lead smelter. Toxic effluent from the smelter was shown to affect the IQ of children and cause excruciating pain in the limbs of adults. Community organizers fought successfully to get the smelter shut down and to get compensation for the families in the complex.

Dosunmu said this action by disadvantaged and racialized organizers inspired him to work for environmental justice. In his presentation he showed that communities of colour are more likely to be exposed to the effects of both climate change and environmental degradation. Dosunmu said Indigenous and African American communities are more likely to suffer the effects of particulate matter pollution from industry and pollution from pipelines, drilling sites and oil and gas infrastructure. He also gave several examples of Black, Indigenous and People of Color (BIPOC)-led organizations winning campaigns for environmental justice in their communities. more ...



July 28, 2022


And to think it all happened on Frances Street!
Do not be content with showing friendship in words alone, let your heart burn with loving kindness for all who may cross your path." "Be generous in prosperity, and thankful in adversity.
Be worthy of the trust of thy neighbor and look upon him with a bright and friendly face."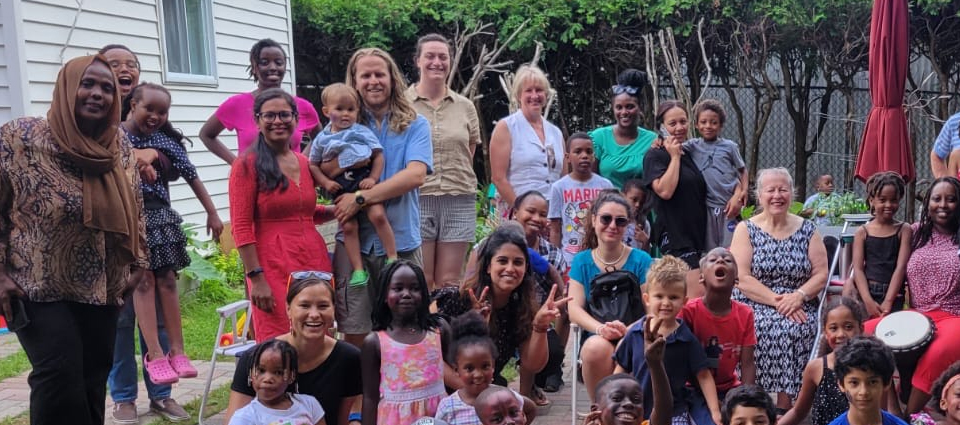 Do you remember the derecho? Just a few hundred metres from the St. Laurent transit hub is a bungalow that, like most of the homes in the eastern part of Overbrook, was cut off from power for seven days. It had already become something of a neighbourhood hotspot, hosting planning meetings for community development and marshalling junior youth and children's classes – including the two little fellows who direct Safiya and Samuel Benoit's usual routine.

Because of their existing network of neighbourhood families and friends, it was natural for the "Benoit Bhavan" [home] to become a local hub. A near-neighbour in a home that hadn't lost power offered service as a charging station. However, it was what took place, over six long days, in the Benoit backyard/play centre/outdoor classroom that was especially wonderful.

By the second day of the outage, three friends with Indian ties "got excited about building a village stove," Sam laughed, of the kind found in rural India. A brick rectangle was assembled, into whose open end were fed lengths of wood trimmed from cedar hedges. The word was quickly spread: if you have frozen food that you can contribute to a neighbourhood pot before it spoils, come on over!

It was an amazing sight. Friends from homes with power were able to contribute some hot dishes (and on one hot day, a couple of tubs of ice cream disappeared quickly, too!) But mainly, existing and fresh connections from across the street and around the corner united to feed, befriend and support one another. During the period of powerlessness, dozens of mums and dads and kids and buddies spent much of the day together, sharing tea and talk, snacks and songs, meals and learning (and more tea!). People came to better understand the ideas and convictions behind the junior youth and children's education happening on their block, not to mention keeping the lucky pot of what's in there now? boiling. Meanwhile, other power-free homes had water heaters that kept working, so the Benoit boys got to have bath-time in several neighbourhood tubs. more ...



June 20, 2022


Mind, Body and Spirit: The Journey of the Soul
Speak thou no word of politics; thy task concerneth the life of the soul, for this verily leadeth to man's joy in the world."
— 'Abdu'l‑Bahá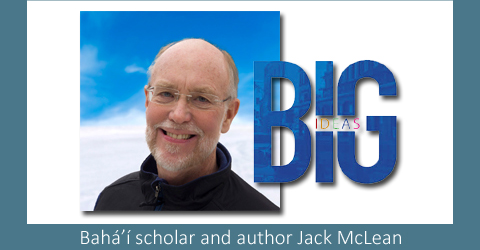 Prior to drinking the hemlock as punishment for impiety and corrupting the youth of Athens, when the philosopher Socrates stood before the judges, in his defense he stated that death was either total annihilation and a release from worry or a promotion to a higher plain of existence. He said that he looked forward to meeting with the great departed figures of Ancient Greece such as Homer, the poet Hesiod and the hero Odysseus.

Bahá'í scholar and author Jack McLean prefaced his talk on the nature and journey of the soul by stating his belief in the soul, and that to him, if there's no immortal soul, what 's the point of the journey (of life)? He delved into the teachings on the nature of the soul by the three great ancient Greek philosophers (Socrates, Plato and Aristotle), whose teachings are the foundation of so much of Western philosophy and the sciences today. Bahá'ulláh, the prophet-founder of the Bahá'í Faith, wrote that Socrates was the most distinguished of all philosophers.

Socrates stated that the soul is an immortal entity, a rational soul capable of thought and expression independent of the human body, teachings he gleaned from Jewish sages he had met who taught him the oneness of God according to 'Abdu'l-Bahá, the son of Bahá'u'lláh. Plato further developed the concept of the soul in his

Republic

, associating it with three parts of the body: the head (reason and logic), the heart (emotion and virtues), and the stomach and reproductive organs (appetites). Aristotle, on the other hand, believed that the soul was the form of the body, which disintegrates at death. However, he also believed that parts of the soul survived death and was different from the body it inhabited, but in what capacity is not clear. more ...