March 4, 2020

JUNIOR YOUTH CAMP BRINGS MANY BLESSINGS




During the last winter break, 30 junior youth aged 11 to 15 from three neighbourhoods in Ottawa (Overbrook, Pineview and Donald Street) participated in a day-long junior youth camp. Since the youth were all coming from different groups and were at different levels of study in the junior youth spiritual empowerment program, it was decided that the camp would focus on building bonds of friendship among these youth while inspiring them to reflect on themes of importance to young people. The film Mercy's Blessing was shown at the outset of the camp and then a series of workshops were held throughout the day related to the film. Mercy's Blessing is the story of a teenage boy and his younger sister in a rural African village who act courageously amid social injustice.

The camp started off with a few songs and games, which allowed junior youth from the different neighbourhoods to get to know each other. After viewing the film, they were assigned to various breakout groups where they participated in various workshops. The workshop materials explored themes from the film such as making choices, upholding equality, standing up for justice, sacrifice, respect, and forces in society, among others. The discussions were rich and varied. The day concluded with a number of artistic presentations inspired from the themes studied in the workshops. Reflecting on the camp, Vanier resident Alphadyo Balde said "It is amazing to see all these young people coming together, all participating in different junior youth groups and developing the spiritual insight and capacity to make the world a better place." more...





February 14, 2020

THE CLIMATE CRISIS AND THE BAHÁ'Í VISION

by Jay Howden

An encouraging audience of 35 gathered at the Ottawa Bahá'í Centre at 211 MacArthur Avenue for the first evening of the "Big Ideas" series. Diana Cartwright, a federal civil servant, has dedicated her professional life to understanding and action on environmental subjects. Her wide experience, from local activism to international congresses, made her an ideal presenter, on January 24, of "Environmental Crisis, Climate Emergency: Looking for Answers in the Bahá'í Revelation".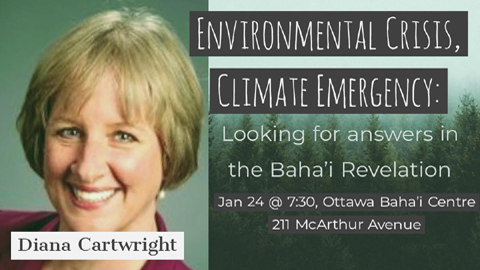 "As Naomi Klein wrote," Cartwright said, "the climate crisis changes everything." It invites extremes: while many ignore or even deny climate change, others despair that we've already failed. Yet despite grim assessments by scientists worldwide and the fires and floods deranging whole societies, there is hope, she insisted. Bahá'u'lláh made it clear that humanity is not just theoretically a single thing, but that its unity and peace are inevitable stages in its evolution. "The tabernacle of unity hath been raised; regard ye not one another as strangers, He announced. "Ye are the fruits of one tree, and the leaves of one branch."

Ms. Cartwright emphasized three concepts. First, she argued, "Climate change is acting as a catalyst to world unity." As dire and global as the effects of warming are – extreme weather catastrophes, the quieter threats of rising and warming seas – they also prove that national borders are illusory, and narrow self-interest counterproductive. Unprecedented, mounting levels of atmospheric carbon are a global emergency, and there is no hiding from the need to address them globally, together. We must unite and, as Cartwright pointed out, we are – though she wishes we moved a little faster! more...





February 9, 2020

A DEVOTIONAL GATHERING TO FEED BODY AND SOUL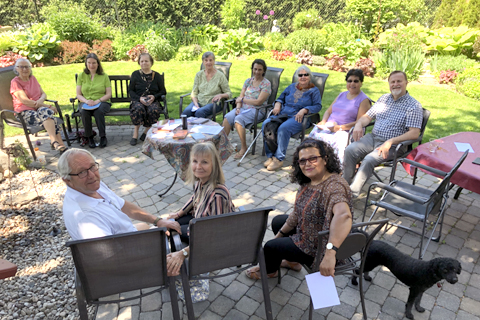 As Wendy James and Bernie Benoit warmly greet people at the door of their lovely and inviting home, you can already feel the excitement and joy collecting among the people in the living room. Delicious potluck foods are filling up the counter in the kitchen, ready to regale the guests after spiritual food by way of a themed devotional, which begins with greetings and introductions. Wendy never ceases to amaze all those present with her capacity to remember everyone's name, either new or regulars, which often runs to between 10 and 20 people.

Prayers and writings are spontaneously read and shared, often interspersed with recorded or live musical renditions of prayers. This is followed by a collective reading of two pages of quotations from the Bahá'í writings and other sources on a chosen topic, mostly in English with some French, out of which a healthy debate takes place among the guests. more...