On January 18th, 2016 approximately one quarter of the Bahá'í Community of Ottawa gathered for the Feast of Sultán (Sovereignty) and this group photograph was taken.
Click here
to see photo!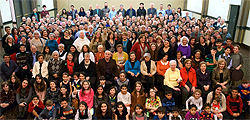 The art of Susanne Rahimpour on display September in the Fireside Gallery downstairs.
---
Bahá'í Holy Days
There are eleven holy days on the Bahá'í calendar
more..
---

Ottawa Bahá'í Centre

211 McArthur Ave. K1L 6P6

TEL: 613-742-8250
Map
---

"Bahá'í Perspectives"

is the Bahá'í response to the

"Ask the Religion Experts"

column series

that formerly ran in the Sunday edition of the Ottawa Citizen newspaper. Read here...
---

Subscribe to Community News Feed using your web browser.
---

Subscribe to receive Community News Updates via email:

The Bahá'ís of Ottawa come from a variety of backgrounds, brought together by a common belief in the oneness of humanity and the unity of religion. We work alongside others to become a force of positive change, applying insights from the Bahá'í teachings to bring about a more just, peaceful and unified community.


---

August 15, 2016
Ottawa Bahá'ís Participate in Sri Chinmoy's 2016 Peace Run Welcoming Ceremony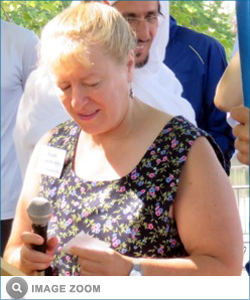 "May you become as the waves of one sea, stars of the same heaven, fruits adorning the same tree, roses of one garden in order that through you the oneness of humanity may establish its temple in the world of mankind"

-

Abdu'l-Bahá




On the morning of August 3, 2016 Mrs. Wendy James chanted these words by the son of Bahá'u'lláh, the Founder of the Bahá'í Faith, during an interfaith welcoming ceremony in Ottawa's International Peace Garden. This gathering, which included diplomats and representatives from six faith communities, honoured more than a dozen runners from Canada, Australia, Ukraine, Slovakia and Germany who have been running throughout the United States and Canada since April in support international peace and harmony.

Mr. Salil Wilson, the Global Executive Director of the Run, told the approximately sixty participants at the welcome ceremony that this annual run was founded in 1987 by meditation master Sri Chinmoy. After leading meditation sessions at the United Nations, Sri Chinmoy invited runners from across the globe to bring a torch of peace across the world. During these runs, said Mr. Wilson, it becomes evident that what unites us is far greater than what divides us. People everywhere want happy and loving lives.


Sixteen members of Ottawa's diplomatic corps, representing countries in Africa, South and Central America, Australia, the Caribbean, and Europe added words of support and encouragement to the runners. Peace starts with each individual, said one; another emphasized the need to make peace with one's enemies, for it is easy to be peaceful with one's friends; while another speaker stressed the importance of respect at the grassroots levels. The representative of Costa Rica, which disbanded its army in 1948 and established a university for peace, spoke of the need to educate people in peace.


Before chanting the words of Abdu'l-Bahá, Mrs. James mentioned that Bahá'ís around the world were working to establish a culture of peace with children, youth and adults, seeing all as members of one human family, confident that, in the words of Bahá'u'lláh, "these fruitless strifes, these ruinous wars shall pass away and the most great peace shall come."
---

July 20, 2016
Accompaniment: Ottawa Youth Group Translating Bahá'í Study into Community Service

Since 2013, a group of youth from the Nepean area have been growing together as they have completed five books in the Ruhi Institute series. As they have gained the knowledge, skills and capacity to serve their community they have been putting knowledge into action in the spirit of Bahá'u'llah's guidance "Let deeds, not words, be your adorning."

David Pittis facilitates the youth group with his wife Tamara. "It's important for me to help youth develop a pattern of life that includes service to humanity as a firm and ongoing component," he said.
As a natural outgrowth of their learning and discussions, the group has taken on greater responsibilities in their community, hosting devotional gatherings and Holy Day celebrations. After learning about the importance of spiritual education they are now playing leadership roles by animating junior youth groups or helping to run children's classes.

To Bahá'ís, youth is an important period of life when one has the opportunity to develop healthy habits of a life in service to humanity. Teens can connect easily with the younger generations. They can accompany each other in their moral and spiritual development as true friends.

"I feel the Ruhi institute courses have helped me find the courage and strength to serve my community alongside my friends," said Mateen Siushansian. He animates a junior youth group in Nepean. Youth like him, he thought, could work with those younger than them, as a role model and as someone who could "help them when they need it." Ray Scully, another youth in the group felt that "studying together has helped me to understand more about the Bahá'í Writings."

---

June 28, 2016


Strengthening the Spiritual and Social Fabric of the Community through Home Visits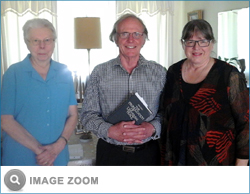 Recently, on a beautiful Thursday afternoon, Sandy Brown and Helen Andrews visited a friend who lives at the Starwood Extendicare facility in Ottawa. The three friends shared some prayers together and spent time chatting and reflecting in the beautiful gardens attached to the residence.


"It was wonderful to spend some time with old friends, catching up and saying prayers together," said Sandy. "It made us all feel more connected and joyful." Helen enjoyed this "home visit" because it left all of them "with a happy and full heart." She noted that it was especially nice to visit friends who are unable to attend community events due to illness or disability.
This practice has been weaving its way into Baha'i community life in recent years. In December 2005, the international governing body of the Baha'i Faith released a statement calling for Baha'is around the world to visit each other's homes to reinforce the "ties of fellowship that bind the members of the community together." These simple "home visits" are "a means for exposing believers to the fundamentals of the Faith" through prayer and collective study of the Bahai Writings. In this way, the letter explained, "as the spiritual foundations of the community are fortified... the level of collective discourse is raised, social relations among the friends take on new meaning, and a sense of common purpose inspires their interactions."
Sometimes, home visits are conducted to study a specific message that has been highlighted by the Spiritual Assembly. Often however, the visits focus on the events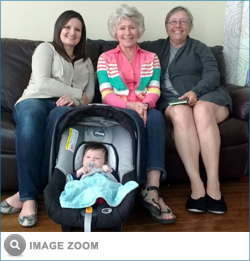 unfolding in the lives of those being visitied, using the study of the sacred Writings and prayers to ease their difficulties and help restore their hope and sense of belonging in a nurturing and active community. Home visits can take place in someone's home or in another place such as a coffee shop, depending on the circumstances. Respect for individual needs and differences is paramount as is creating an atmosphere of spirituality, hospitality and friendship.
Over the past few years, many members of the Baha'i community in Ottawa have been learning how best to conduct home visits in their neighbourhoods. Through action, reflection, and practice, skills have been honed and the many benefits of conducting home visits have become apparent. Home visits have been shown to improve the quality of community worship, have forged ties of friendship and spiritual kinship and strengthened the social network of the community. Through home visits young and old, new and veteran believers, and friends of the Baha' i community work together to increase the devotional character of the community and
raise capacity in each other for action.
---