Dramatic play reading that explored an episode of Bahá'í history draws large crowd
January 15, 2019




It was standing room only at the dramatic reading of the play, "Tabreez", written by Marlene Macke, on Nov. 24 at the Ottawa Bahá'í Centre. The full-length play told the story of two families, one Persian, one British, living in Tabriz, Iran, and how their lives intersected around the execution of the Báb on July 9, 1844. The play offered a fascinating combination of historical and fictionalized characters who helped tell the story of this dramatic episode in Bahá'í history.

The nine characters, of British, Persian and Armenian origin, were all played by Bahá'í community members, many of whom had not performed on stage before. The show was directed by David Andrews, a retired teacher at Canterbury High School and Linda O'Neil and Heather Harvey acted as producers. Nathalie Thirlwall helped to create period costumes, and the poster and program were designed by Del Carry. more...





Children First
January 5, 201




What if children's education emphasized learning to think, reflect and apply spiritual laws that benefit both their life and their society? It sounds otherworldly, yet the young are our most precious treasure since the promise and guarantee of the future lie with them.

The children's class for some 20 four-and-five-year-olds and seven-to-10-year-olds in the Albion-Heatherington neighbourhood is taught every Tuesday by volunteer teachers. At the beginning of every class they are asked to say prayers which confirm that God is a rewarding presence in their lives. The children then participate in book reading, understanding and discussion. Take for example a recently read book about disobedience. They were shown the book's illustrations and their views were elicited, with each young voice recognized in reinforcing the learned lesson. Since the children's class is founded on Bahá'í teachings and therefore universal in scope, learning the importance of obedience at a young age is important. more...





Power and Peace Workshop
December 12, 2018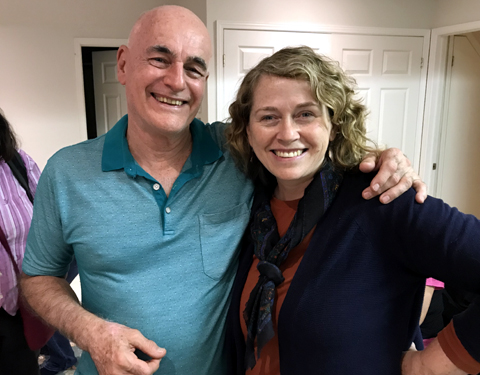 In October 2018, a personal growth workshop took place in Ottawa led by Hugh Smiley, a very interesting Bahá'í from Toronto whom I have known for more than a decade. Hugh is a thoughtful, funny, well-read and highly experienced practitioner working in the area where spirituality, psychology and physical health meet. A Bahá'í who lived for five years in Paraguay, he now works as a psychotherapist and bodyworker; he also teaches meditation and creative voicework. His passions include playing jazz piano and studying flamenco dance. For eight years he taught at Heartsong Hill, a 50-acre forested retreat on Georgian Bay that he founded. more...



Special Video Presentation: "Project One Garden"
November 20, 2018

Local Bahá'í artist, Barbara Pope asks the question: "What does Unity in Diversity mean to you?"