On January 18th, 2016 approximately one quarter of the Bahá'í Community of Ottawa gathered for the Feast of Sultán (Sovereignty) and this group photograph was taken.
Click here
to see photo!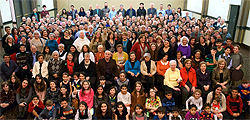 The art of Susanne Rahimpour on display July in the Fireside Gallery downstairs.
---
Bahá'í Holy Days
There are eleven holy days on the Bahá'í calendar
more..
---

Ottawa Bahá'í Centre

211 McArthur Ave. K1L 6P6

TEL: 613-742-8250
Map
---

"Bahá'í Perspectives"

is the Bahá'í response to the

"Ask the Religion Experts"

column series

that formerly ran in the Sunday edition of the Ottawa Citizen newspaper. Read here...
---

Subscribe to Community News Feed using your web browser.
---

Subscribe to receive Community News Updates via email:

The Bahá'ís of Ottawa come from a variety of backgrounds, brought together by a common belief in the oneness of humanity and the unity of religion. We work alongside others to become a force of positive change, applying insights from the Bahá'í teachings to bring about a more just, peaceful and unified community.


---

June 28, 2016


Strengthening the Spiritual and Social Fabric of the Community through Home Visits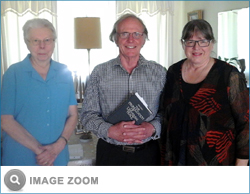 Recently, on a beautiful Thursday afternoon, Sandy Brown and Helen Andrews visited a friend who lives at the Starwood Extendicare facility in Ottawa. The three friends shared some prayers together and spent time chatting and reflecting in the beautiful gardens attached to the residence.


"It was wonderful to spend some time with old friends, catching up and saying prayers together," said Sandy. "It made us all feel more connected and joyful." Helen enjoyed this "home visit" because it left all of them "with a happy and full heart." She noted that it was especially nice to visit friends who are unable to attend community events due to illness or disability.
This practice has been weaving its way into Baha'i community life in recent years. In December 2005, the international governing body of the Baha'i Faith released a statement calling for Baha'is around the world to visit each other's homes to reinforce the "ties of fellowship that bind the members of the community together." These simple "home visits" are "a means for exposing believers to the fundamentals of the Faith" through prayer and collective study of the Bahai Writings. In this way, the letter explained, "as the spiritual foundations of the community are fortified... the level of collective discourse is raised, social relations among the friends take on new meaning, and a sense of common purpose inspires their interactions."
Sometimes, home visits are conducted to study a specific message that has been highlighted by the Spiritual Assembly. Often however, the visits focus on the events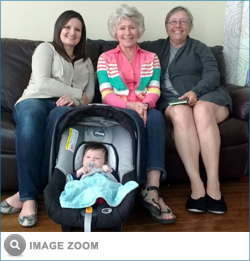 unfolding in the lives of those being visitied, using the study of the sacred Writings and prayers to ease their difficulties and help restore their hope and sense of belonging in a nurturing and active community. Home visits can take place in someone's home or in another place such as a coffee shop, depending on the circumstances. Respect for individual needs and differences is paramount as is creating an atmosphere of spirituality, hospitality and friendship.
Over the past few years, many members of the Baha'i community in Ottawa have been learning how best to conduct home visits in their neighbourhoods. Through action, reflection, and practice, skills have been honed and the many benefits of conducting home visits have become apparent. Home visits have been shown to improve the quality of community worship, have forged ties of friendship and spiritual kinship and strengthened the social network of the community. Through home visits young and old, new and veteran believers, and friends of the Baha' i community work together to increase the devotional character of the community and
raise capacity in each other for action.
---

April 15, 2016
"You will be scattered like gems across the country." Mina Sanaee recalled Douglas Martin delivering this message to the Baha'i refugees in Pakistan when he visited them in the early 1980s. Mr Martin was the Secretary of the National Spiritual Assembly of the Baha'is of Canada at that time and Canada was the first country to open its doors to Baha'i refugees fleeing violent persecution in Iran. "Each Baha'i [who left Iran] faced a supremely painful decision [to leave] after patiently enduring daily acts of violence and injustice.... We were dispirited," Ms Sanaee said, but "he encouraged us with this message."

On September 21st, Ms. Sanaee, Mr. Martin and others gathered at Carleton University to participate in a a one­day Symposium on the Iranian Baha'i Refugee Movement to Canada, 1981­1989. About 100 people attended the event, including academics, civil servants, students, and community members. The conference was sponsored by the Baha'i Community of Canada, the Canadian Immigration Historical Society, and Carleton University's Centre for Public History, Migration and Diaspora Studies Initiative, and Carleton University's Department of History.

Prof Howard Adelman, a leading scholar in refugee studies, observed that the Baha'i community in Iran was targeted because they "reflect the spirit of modernity in their universalism". Eventually, some 2,300 Baha'is would come to Canada as part of a special program designed by the Government of Canada during the 1980s, in cooperation with the National Spiritual Assembly.

Gerry Van Kessel, who was Director­General of Refugees in the 1980s, commented that his work on the Baha'i program had been a "career highlight". When Douglas Martin approached the government for their assistance, there was an existing structure to facilitate the settlement of Baha'is from Iran. However, Van Kessel observed that what made the program work was the "trust and credibility" developed between Baha'i representatives and public servants. "That's how you get cooperation... and your credibility with us made this work."

Participants in the conference also heard from the perspective of refugees and civil servants in the field. Mark Davidson, now Director­General at Citizenship and Immigration Canada, was on his first posting to Islamabad, and he recalled being astounded by the remote locations to which Baha'is were resettled. More than 100 local communities as far away as Sandspit, BC, were sponsoring Baha'is. Afsoon Houshidari was four years old when her family fled Iran, and she shared her personal anecdotes and recollections of waiting for resettlement in Karachi and the excitement of preparing for departure to come to Canada. She only recently discovered that her family's visas were signed by her co­panelist, Dennis Scown.

The symposium heard about different experiences of Baha'is who came to Canada at that time, as well as from the perspective of community members who welcomed the arrival of the refugees. Panelists commented that the each experience was unique, and many of them involved trauma and great difficulty. Their resilience was often strengthened by their Baha'i beliefs and the unique cross­cultural connections made with their co­religionists and other Canadians.

For more information, see the article on the Baha'i World Service News. Additional pictures and notes have been posted on the website of the Carleton University Campus Association for Baha'i Studies.

The symposium website now contains videos of the full proceedings.
---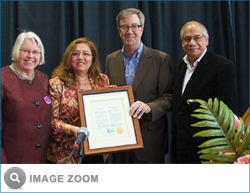 On January 17, 2016 Mayor Jim Watson warmly welcomed members of many of Ottawa's different faith communities who had gathered at City Hall to celebrate World Religion Day. "This is the best turnout we've ever seen for World Religion Day," the Mayor noted, to a crowd of approximately 250.
He characterized Ottawa's faith communities by their "many contributions and service to our community" which were well‐known and appreciated by city council, several members of which were also in attendance. The city's religious communities have always been quick to to "step up to the plate" for community issues, such as helping welcome refugees "to our country, to our city and to our neighbourhoods." This spirit of community service helped make Ottawa one of the most generous cities in the country in terms of volunteerism and charitable donations, he said. This
generosity was evident from "church to church, mosque to mosque and temple to temple across the city."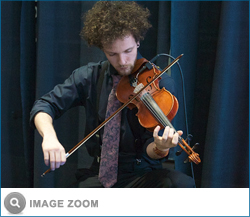 Mayor Watson thanked the Baha'i community of Ottawa for organizing World Religion Day and before making the official declaration, reminded everyone that the purpose of the event was "to unite everyone, no matter what their faith or origin and shows us that there are common foundations of all religions." World Religion Day, said Mayor Watson, "promotes harmony, mutual understanding and respect amongst all people of faith and it sends the message that we can work together to create a better world"
This year's program reflected on on shared values of service and building bridges between people, especially during times of conflict, prejudice and strife. The program featured many musical presentations from different traditions, and was closed by the Baha'i children's choir.
World Religion Day 2016

Photos © Louis Brunet
---