On January 18th, 2016 approximately one quarter of the Bahá'í Community of Ottawa gathered for the Feast of Sultán (Sovereignty) and this group photograph was taken.
Click here
to see photo!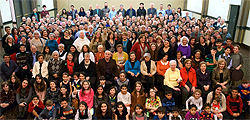 The Art of Mr. Niknafs on display May in the Fireside Gallery downstairs.
---
Bahá'í Holy Days
There are eleven holy days on the Bahá'í calendar
more..
---

Ottawa Bahá'í Centre

211 McArthur Ave. K1L 6P6

TEL: 613-742-8250
Map
---

"Bahá'í Perspectives"

is the Bahá'í response to the

"Ask the Religion Experts"

column series

that formerly ran in the Sunday edition of the Ottawa Citizen newspaper. Read here...
---

Subscribe to Community News Feed using your web browser.
---

Subscribe to receive Community News Updates via email:

The Bahá'ís of Ottawa come from a variety of backgrounds, brought together by a common belief in the oneness of humanity and the unity of religion. We work alongside others to become a force of positive change, applying insights from the Bahá'í teachings to bring about a more just, peaceful and unified community.


---

May 12, 2017
Not Another Year - Calling for the Release of Seven Baha'i Leaders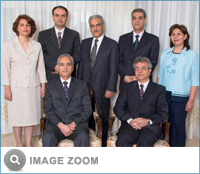 During the next week, the Baha'i community of Ottawa is holding a series of devotional gatherings across the city to pray for the seven Baha'i leaders who are starting their ninth year of arrest and imprisonment in Iran: Mrs. Fariba Kamalabadi, Mr. Jamaloddin Khajani, Mr. Afif Naeimi, Mr. Saeid Rezaie, Mrs. Mahvash Sabet, Mr. Behrouz Tavakkoli and Mr. Vahid Tizfahm.
These seven individuals were arrested in 2008 for the sole reason of being Baha'is. They were all productive, hard working members of Iranian society, who laboured for the well being of their country and fellow citizens. Without notice and due process, they were incarcerated.
Apart from the seven Baha'i leaders, a number of members of the Ottawa Baha'i community have family who are arrested and imprisoned in Iran for no other reason than their belief. This leaves many worried as to what the future will hold in that country.


Ottawa Baha'is join people from around the world to call for the immediate release of the Baha'i leadership, whose sentences are among the longest of any prisoners of conscience in Iran - the twitter campaign #releaseBahai7now.
It is the fervent hope and prayer that Iran's persecution of the minority Baha'i community will be brought to an end.

For more information please check here:
https://www.bic.org/not-another-year-9th-campaign/not-another-year
---

March 28, 2017
A Lofty Devotional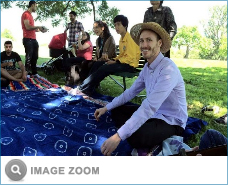 Editor's Note - Devotional gatherings are an important part of Baha'i community life in Ottawa and around the world. There are no set formulas for how such devotional gatherings are run and much room for creativity and learning.
It is in this spirit
, we are very pleased to feature a special relection from Ottawa Baha'i Hayley Miloff, sharing her personal experience hosting devotionals.
When my brothers and I got an apartment in Centretown four and a half years ago, we knew we wanted to make our home a haven for people from all walks of life. We wanted to create a space where people would feel comfortable, would be able to build meaningful friendships and would always leave feeling better than when they arrived. We also wanted to create opportunities for friends to express their love for the Creator, whatever their faith or lack thereof, and to have open conversations about life's big questions. We decided to host a gathering, which we affectionately called Lofty. And so it began.

Like many things worth doing, Lofty took some effort. It started out as a brunch, so my brothers and I would wake up early Sunday mornings and run around buying cheese and bagels and orange juice. Over time, we realized the gatherings were just as sweet when they were simple. In fact, going crazy over the food sometimes took away from the real reason we were all there: to share prayers and writings from all the world religions, and to praise the one same God. So Lofty evolved over time, sometimes bringing people together for meals and other times simply for prayer, upliftment and enjoying each other's company.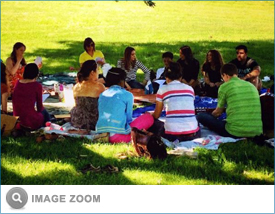 Lofty became an experiment in how to foster spiritual connection. We hosted Lofty in our living room, as well as under a tree in the Arboretum and in parks in downtown Ottawa. We had morning Lofties and evening Lofties. We had some gatherings with people of all ages, others focused on youth, and some specifically for parents and babies. We paired Lofty with arts and crafts in the afternoons (lovingly coined 'crafternoons'), board game nights and soccer games. We hosted it weekly when we could, and less frequently when work and school got crazy. At times, we asked for help organizing the program, bringing snacks, and reflecting on how we could make it better, and people always came through with tremendous support.

Lofty has been blessed by a diverse array of enthusiastic guests, people from Hindu, Muslim, Christian, Buddhist, agnostic and atheist backgrounds, exploring ideas of inner transformation and social change together. Sometimes we would have rich conversations with one guest and other times had to move to a larger home to accommodate some 50 people. Participants made Lofty their own by contributing poems, songs, prayers and quotes from their favourite spiritual teachers, philosophers and writers. We discussed dozens of themes picked by the group, from joy, contentment, and relationships, to nature and sustainability, the spiritual education of children, mothers and mentors, and the harmony of science and religion. We even had a special Lofty to inaugurate the opening of the Baha'i temple in Santiago, Chile in October. When one brother moved to Stockholm, and the other to Arizona, a series of different roommates added to Lofty's energy and vitality. At the end of the day, I came to realize that a devotional is not about the venue or the hosts, but has achieved its goal "where mention of God hath been made, and His praise glorified." And so it continues. If you ever want to join our ever-expanding group of eclectic friends for prayers, feel free to be in touch (hmiloff@gmail.com). We'd love to meet you!


---

January 20, 2017
Canadian Baha'i representative participates in UN forum addressing anti-muslim discrimination
- New York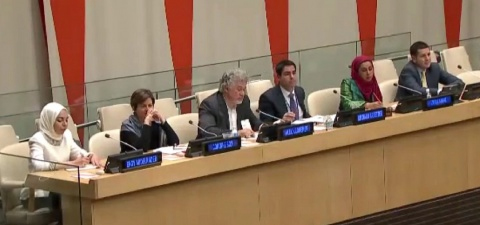 Director of Government Relations for the Baha'i Community of Canada, Corinne Box, a resident of Ottawa, participated in a recent High-Level Forum on Combatting Anti-Muslim Discrimination and Hate that was hosted at the UN Headquarters in New York. She was invited to participate by the Government of Canada.

The event, which brought together people of many faiths and backgrounds, representatives from several nations and international bodies, and individuals working in a variety of sectors, saw a unified response emphasizing the need to focus on our common humanity.

A video message from the new Secretary General of the UN, António Guterres, framed the discussion of anti-Muslim discrimination in the contexts of both this period in history where tensions are rising around the globe, and of the many forms of discrimination that plague and hinder us. In his remarks, he noted that, "discrimination diminishes us all; it prevents people and societies from achieving their full potential." He further urged those gathered to "draw strength from the values of inclusion, tolerance, and mutual understanding - that are at the heart of all major faiths, and the United Nations charter."

Throughout the day, speakers and panelists made explicit what it means to be inclusive and tolerant and what one might try to do to encourage mutual understanding - in the context of societies plagued by anti-Muslim discrimination and hate. The Baha'i representative, Mrs. Box, a resident of Ottawa, was invited along with Zarqa Nawaz, Director of Little Mosque on the Prairie, to speak in an afternoon panel session. The panel, titled, Positive Narratives to Promote Pluralism and Inclusion, was organized and moderated by Richard Arbeiter, Director General of the Office of Human Rights, Freedom and Inclusion in the Global Affairs Canada Department (the former Department of Foreign Affairs).

In her comments, Mrs. Box noted that it is "important to give more space to the positive influence of religion in society". In that connection, she shared the modest, yet concrete example of the Baha'i Community of Canada's collaboration with other organizations to bring about the

Our Whole Society

conference series, which aims to open the space for voices from a wide range of secular and religious positions to discuss the role of religion in Canadian society.

Echoing the message shared by the Secretary General in his opening remarks, Mrs. Box later affirmed, "we are all part of the same human family," and in a brief exploration of the implications of this conviction, she noted our differences, our profound interdependence, and emphasized the organic relationship that exists between us, whereby "damage to one part will damage the whole".

Participants in the high-level forum left well-informed of the reach, depth, and some of the sources of prejudice against Muslims, as well as some indications of modest steps that have helped to counter harmful narratives. A press release on the event from the Canadian government can be read here.
---