February 14, 2020

THE CLIMATE CRISIS AND THE BAHÁ'Í VISION

by Jay Howden

An encouraging audience of 35 gathered at the Ottawa Bahá'í Centre at 211 MacArthur Avenue for the first evening of the "Big Ideas" series. Diana Cartwright, a federal civil servant, has dedicated her professional life to understanding and action on environmental subjects. Her wide experience, from local activism to international congresses, made her an ideal presenter, on January 24, of "Environmental Crisis, Climate Emergency: Looking for Answers in the Bahá'í Revelation".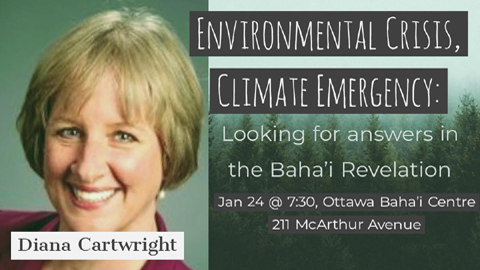 "As Naomi Klein wrote," Cartwright said, "the climate crisis changes everything." It invites extremes: while many ignore or even deny climate change, others despair that we've already failed. Yet despite grim assessments by scientists worldwide and the fires and floods deranging whole societies, there is hope, she insisted. Bahá'u'lláh made it clear that humanity is not just theoretically a single thing, but that its unity and peace are inevitable stages in its evolution. "The tabernacle of unity hath been raised; regard ye not one another as strangers, He announced. "Ye are the fruits of one tree, and the leaves of one branch."

Ms. Cartwright emphasized three concepts. First, she argued, "Climate change is acting as a catalyst to world unity." As dire and global as the effects of warming are – extreme weather catastrophes, the quieter threats of rising and warming seas – they also prove that national borders are illusory, and narrow self-interest counterproductive. Unprecedented, mounting levels of atmospheric carbon are a global emergency, and there is no hiding from the need to address them globally, together. We must unite and, as Cartwright pointed out, we are – though she wishes we moved a little faster! more...





February 9, 2020

A DEVOTIONAL GATHERING TO FEED BODY AND SOUL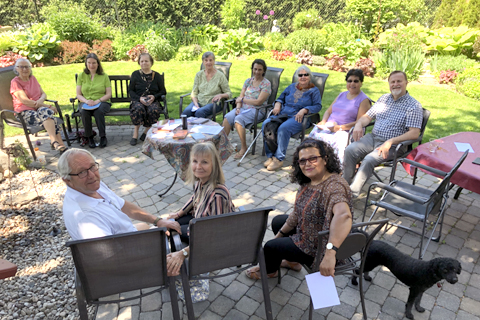 As Wendy James and Bernie Benoit warmly greet people at the door of their lovely and inviting home, you can already feel the excitement and joy collecting among the people in the living room. Delicious potluck foods are filling up the counter in the kitchen, ready to regale the guests after spiritual food by way of a themed devotional, which begins with greetings and introductions. Wendy never ceases to amaze all those present with her capacity to remember everyone's name, either new or regulars, which often runs to between 10 and 20 people.

Prayers and writings are spontaneously read and shared, often interspersed with recorded or live musical renditions of prayers. This is followed by a collective reading of two pages of quotations from the Bahá'í writings and other sources on a chosen topic, mostly in English with some French, out of which a healthy debate takes place among the guests. more...





January 31, 2020

2020 WORLD RELIGION DAY PROCLAIMED IN OTTAWA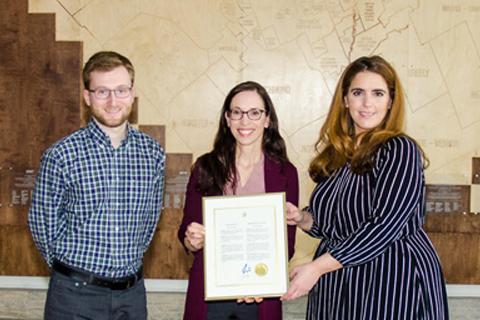 On Mayor Jim Watson proclaimed January 19, 2020 to be World Religion Day in Ottawa. Deputy Mayor Laura Dudas presented the proclamation at City Hall to two representatives of the Ottawa Bahá'í community.

The text of the proclamation highlights Ottawa's rich tradition of interfaith cooperation, as well as the City's long-standing commitment to diversity.

The Bahá'í teachings also emphasize the importance of diversity. Speaking in Paris in 1911, 'Abdu'l‑Bahá, one of the Central Figures of the Bahá'í Faith, observed that "[i]f you beheld a garden in which all the plants were the same as to form, color and perfume, it would not seem beautiful to you at all, but, rather, monotonous and dull. The garden which is pleasing to the eye and which makes the heart glad, is the garden in which are growing side by side flowers of every hue, form and perfume, and the joyous contrast of color is what makes for charm and beauty. So is it with trees. An orchard full of fruit trees is a delight; so is a plantation planted with many species of shrubs. It is just the diversity and variety that constitutes its charm; each flower, each tree, each fruit, besides being beautiful in itself, brings out by contrast the qualities of the others, and shows to advantage the special loveliness of each and all…The diversity in the human family should be the cause of love and harmony, as it is in music where many different notes blend together in the making of a perfect chord."
- (PARIS TALKS: Addresses Given by 'Abdu'l‑Bahá in 1911) more...