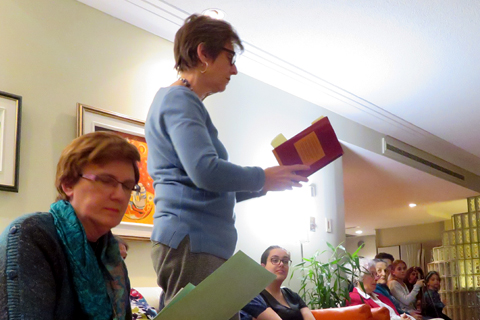 In addition to personal prayer and meditation, Bahá'í communities hold regular devotional gatherings for collective worship. These gatherings unite people in prayer and awaken their spiritual susceptibilities. more...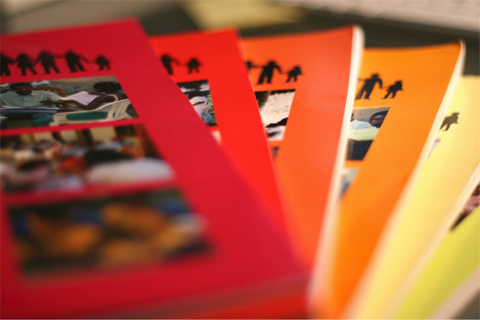 Study circles bring groups of people together to deepen their understanding of the Bahá'í teachings through systematic study. This involves structured group discussion of passages from the Bahá'í writings that encourage reflection on one's moral purpose and capacities for service.
more...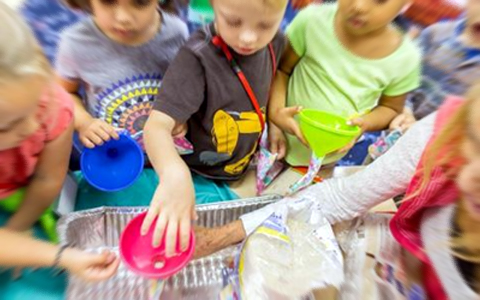 Bahá'í children's classes are offered to all children between 6 and 10 years old for their spiritual education and moral development. The aim of these classes is to inspire in each child a love for our diverse human family and to cultivate a praiseworthy character. They are guided by the Bahá'í belief that children are noble beings with great potential to develop into upright and active participants in their community.
more...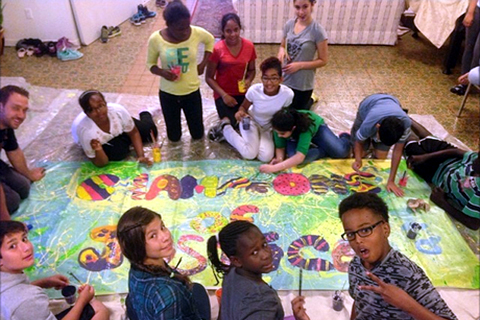 Junior youth – or those between 11 and 14 years – are at a crucial stage in their lives when they are defining their identity and values. Junior youth groups offered by the Bahá'í community address the needs of these young people by helping them to develop a strong moral identity and to empower them to contribute to the well-being of their communities. more...








---

For details about this Zoom presentation, click here.
To download poster click here.
Sign up to receive information and announcements on future Big Ideas talks and Events here.
---

April 16, 2021


Making Good Things Happen
One of the most pressing problems of humanity in the current century is how a growing, rapidly developing, and not yet united global population can, in a just manner, alive in harmony with the planet and its finite resources.
- Universal House of Justice
Each of us can do our part to make good things happen for the environment according to Greeley-based Bahá'í Bill Kelly, who gave a recent Friday evening Big Ideas presentation about grassroots environmental action.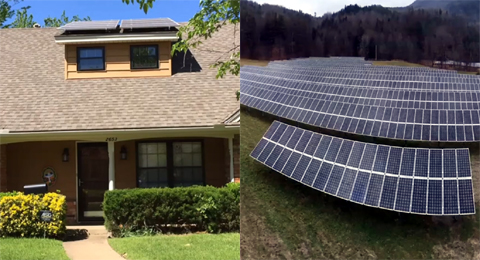 Bill told the story of his family's environmental evolution from having two solar panels installed on the roof of their Texas home to celebrate their teenage environmentalist son's birthday, to a business involving several large commercial solar installations in both Texas and Vermont. He explained that after the first panels were installed, he thought they could inspire others to try using solar power by doing a demonstration project on a prominent local family's house. Along with some volunteer helpers, he and his son put a larger installation on the roof of a local minister – learning as they worked – and of course used a professional electrician to hook them to the electrical grid. more ...



April 16, 2021


The River Walk Devotional Endures Despite the Pandemic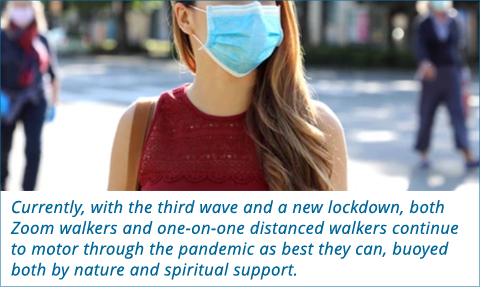 Back in 2016, Allison Wood and Wendy James, who both live in different neighbourhoods, began a River Walk Devotional that united two communities with the aim of blending both physical exercise in a beautiful setting and spiritual reflection. In other words, it was created by community for community. The path taken would stretch from Sandy Hill to Vanier and vice versa. Thus began an organic process that evolved into walk in which all walkers consulted on a reflection topic that was then supported by quotes, stories and prayers about virtues. A bond of love and friendship quickly developed during these walks, which were undertaken regardless of the weather. Of the overall 30 participants, there was always a core group of 15 walkers who joined in. more ...



April 11, 2021
City Hall Interfaith Service Commemorating the First Anniversary of Covid-19 in Ottawa
On Thursday, 25 March 2021, an event commemorating the first anniversary of Covid-19 in Ottawa and honouring the city's citizens who lost their lives to the virus was held at the Marion Dewar Plaza next to the 2017 Cauldron. In addition to Mayor Jim Watson and Ottawa's Chief Medical Officer of Health Vera Etches, the speakers included Chief Wendy Jocko of the Algonquins of Pikwakanagan First Nation, Reverend Dr. Anthony Baily of Parkdale United Church, Rabbi Idan Scher of Congregation Machzikei Hadas, Imam Samy Metwally of the Islamic Society of Gloucester and Mr. François Couillard, member of the Local Spiritual Assembly of the Bahá'ís Ottawa. All speakers were spaced six feet apart during the presentation. Midway through the program, Cellist Julian Armour and harpist Caroline Léonardelli performed Bach's haunting piece, Air on a G String.
Mr. Couillard's comments on this sad occasion were as follows:

Mayor Watson, Chief Jocko, Mrs Etches and dear friends,

The Ottawa Bahá'í Community of Ottawa would like to take this opportunity to express its deepest condolences to the families and their relatives who have lost dear ones to this terrible pandemic.
more ...