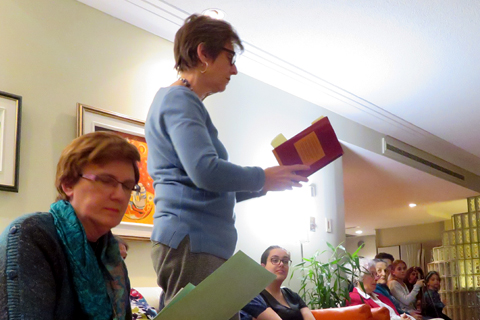 In addition to personal prayer and meditation, Bahá'í communities hold regular devotional gatherings for collective worship. These gatherings unite people in prayer and awaken their spiritual susceptibilities. more...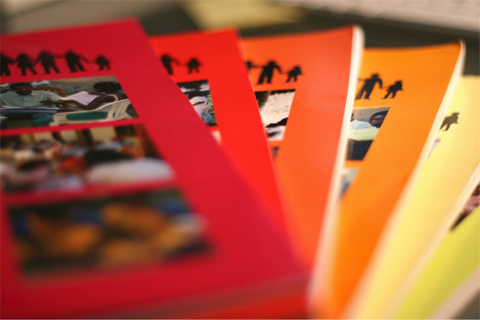 Study circles bring groups of people together to deepen their understanding of the Bahá'í teachings through systematic study. This involves structured group discussion of passages from the Bahá'í writings that encourage reflection on one's moral purpose and capacities for service.
more...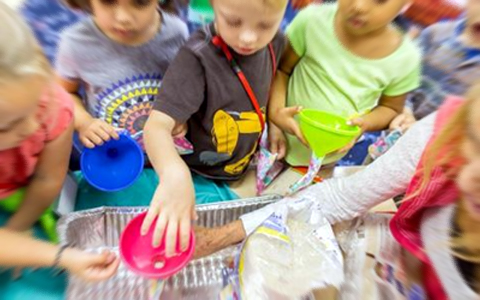 Bahá'í children's classes are offered to all children between 6 and 10 years old for their spiritual education and moral development. The aim of these classes is to inspire in each child a love for our diverse human family and to cultivate a praiseworthy character. They are guided by the Bahá'í belief that children are noble beings with great potential to develop into upright and active participants in their community.
more...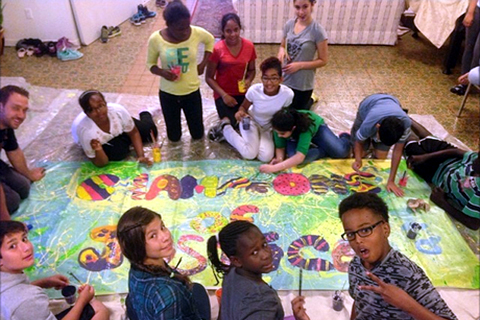 Junior youth – or those between 11 and 14 years – are at a crucial stage in their lives when they are defining their identity and values. Junior youth groups offered by the Bahá'í community address the needs of these young people by helping them to develop a strong moral identity and to empower them to contribute to the well-being of their communities. more...






---

Welcome to season two of Big Ideas.
Coming Friday, May 13, 2022, 7:30pm EST: Making the Film 'Abdu'l-Bahá in France
with Anne & Tim Perry
For details about this series, click here.
Sign up to receive information and announcements on future Big Ideas talks and Events here.


---

---

Ottawa Bahá'í Centre

Bookstore hours:
Tuesdays, Wednesdays, and Thursdays from 11:00 am to 1:00 pm - (closed on Bahá'í Holy Days and civic holidays)



Ottawa Bahá'í Centre's online Public Events:

click here.
---

---


May 17, 2022


Lighting Up the Territories: Bahá'ís in Canada's North
"Attach great importance to the indigenous population of America… should they be educated and guided, there can be no doubt that they will become so illumined as to enlighten the whole world…"
— 'Abdu'l‑Bahá, Tablets of the Divine Plan, April 9, 1916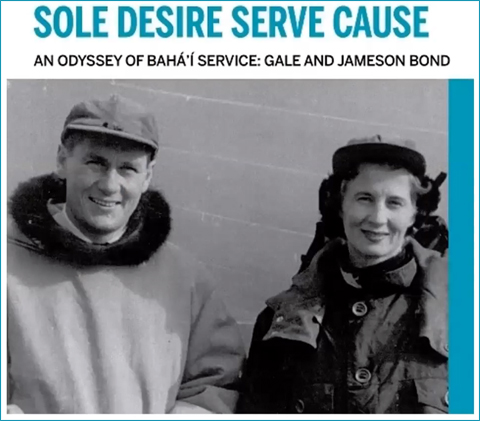 The "Heroic Age" of the Bahá'í Faith – spanning the missions of its central Figures, including 'Abdu'l‑Bahá, the founder Bahá'u'lláh's son and interpreter – lasted from 1844-1921, the year of 'Abdu'l-Bahá's passing. Last year, Bahá'ís marked the centenary of the "Formative Age" of the community as it established institutions worldwide and emerged from obscurity. Amid whispers of spring, as part of the Big Ideas series, Ottawa's Leslie Cole surveyed a remarkable facet of the Formative Age: the growth of the Faith in Canada's territorial North. Ms. Cole embraced the Bahá'í Faith in Yukon, and has studied, lived and worked in domestic and international Arctic territories for years. Her talk, titled 'Under One Tent,' was the fruit of her research for a forthcoming book.

Late in His life, 'Abdu'l‑Bahá wrote a series of letters to the North American believers, then a tiny group, outlining his "Divine Plan" for the spread of Bahá'u'lláh's teachings. Among His many instructions included the inestimable value of teaching the Faith to indigenous peoples. Letters to the Canadian Bahá'ís specifically named the Northwest Territories as they were known in 1916-17 (Yukon, Mackenzie, Keewatin, Baffin, Ungava) and repeatedly emphasized the importance of the Indigenous and Inuit peoples in the development of a future community. more ...



April 27, 2022


Grow or buy local – serve your neighbourhood and the planet
A core element of a strategy of sustainable development is the reform of agricultural policies and processes. Food production and agriculture is the world's single largest source of employment [....] malnourishment and food insecurity suffocate all attempts at development and progress [...] The farmer must be accorded his or her rightful place in the process of development and civilization building: as villages are reconstructed, the cities will follow.

— (Bahá'í International Community, 2008)


In a recent talk, Bahá'í ecologist Arthur Dahl listed resource depletion, loss of biodiversity, climate change and mass population displacement as interrelated crises that must be addressed both at an individual level as well as through global governance. One of his starkest warnings was the statement from the UN's Food and Agriculture Organization that if we continue our current methods of agricultural production, we have only 60 harvests before the system collapses.

Dahl suggests that the pandemic offers us an opportunity for fundamental transformation. As individuals in Western society, we must limit our consumption and develop smaller, simpler, and more local economic activities. He says we need to develop a more distributive approach to food production, with food grown sustainably and harvested closer to where it is consumed. One of the easiest ways to do both is to make food consumption more local – either by buying more food locally, growing your own food, or a combination of both. more ...



April 7, 2022


The Ottawa Bahá'í Community's Involvement in the Capital Region Interfaith Council
by David Oke
They that are endued with sincerity and faithfulness should associate with all the peoples and kindreds of the earth with joy and radiance, inasmuch as consorting with people hath promoted and will continue to promote unity and concord, which in turn are conducive to the maintenance of order in the world and to the regeneration of nations. Blessed are such as hold fast to the cord of kindliness and tender mercy and are free from animosity and hatred.
— Bahá'u'lláh



The Capital Region Interfaith Council (CRIC) has existed in Ottawa for 25 years as a non-profit organization to promote interfaith understanding and harmony. Its mission is to enhance the awareness of the existence in Ottawa of its many faith traditions and to encourage the development of a living and dynamic expression of Ottawa's pluralistic spiritual community. Through its various efforts, the CRIC has been able to assist society to recognize the role that religion can play in creating a peaceful global world and in combating religious intolerance.

CRIC's objectives include providing a forum for dialogue among the faith communities to enhance mutual understanding; fostering action on common interests and concerns; developing respect for and understanding of religious practices of all faiths; acting as a referral resource for matters related to religious issues; supporting and developing interfaith activities, including work for peace, justice, and care for the planet earth; and finally, developing ways and means to fulfill our mission. more ...



"Episodes from the Life of 'Abdu'l-Bahá" is a series of articles Commemorating the Centenary of the Passing of 'Abdu'l-Bahá November 28, 1921.

Dawn of the Light portrays several individuals from different continents as they relate their own personal search after truth and meaning. They share their discovery that God has sent two Divine Manifestations —the Báb and Bahá'u'lláh. Watch or download the film here.

The Bahá'í world eagerly anticipated the second historic bicentenary in Bahá'í history. October 2019 marked the 200th anniversary of the birth of the Báb, the forerunner and herald of the Bahá'í Faith. Visit the website

here.



The Bahá'í Faith from A to Z. Twenty six selected quotes from the Bahá'í writings.
Read Now!





There is a story unfolding. It is a story of humanity's progress through history, propelled by the teachings of Messengers of God Who have guided humanity through its stages of development, and now to the dawn of its maturity. Watch or download the film here.




The Bahá'í world eagerly anticipated the second historic bicentenary in Bahá'í history. October 2019 marked the 200th anniversary of the birth of the Báb, the forerunner and herald of the Bahá'í Faith. Follow our special series on the "Life of the Báb Cameo Series". Start the eleven part series here.