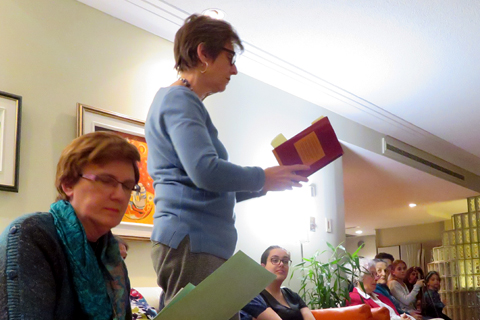 In addition to personal prayer and meditation, Bahá'í communities hold regular devotional gatherings for collective worship. These gatherings unite people in prayer and awaken their spiritual susceptibilities.

more...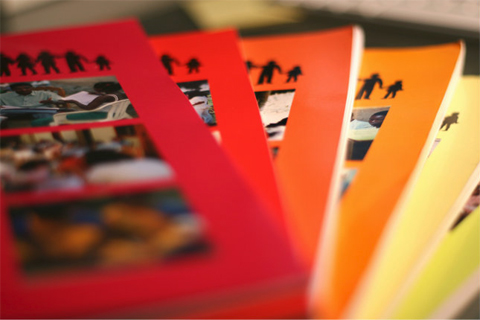 Study circles bring groups of people together to deepen their understanding of the Bahá'í teachings through systematic study. This involves structured group discussion of passages from the Bahá'í writings that encourage reflection on one's moral purpose and capacities for service.
more...

Bahá'í children's classes are offered to all children between 6 and 10 years old for their spiritual education and moral development. The aim of these classes is to inspire in each child a love for our diverse human family and to cultivate a praiseworthy character. They are guided by the Bahá'í belief that children are noble beings with great potential to develop into upright and active participants in their community.
more...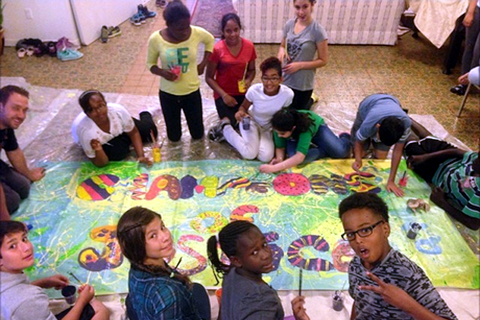 Junior youth – or those between 11 and 14 years – are at a crucial stage in their lives when they are defining their identity and values. Junior youth groups offered by the Bahá'í community address the needs of these young people by helping them to develop a strong moral identity and to empower them to contribute to the well-being of their communities. more...





---
---
---
Big Ideas: Speak with a kindly tongue: On-line engagement, social media and youth With Dr. Victoria Talwar
Friday, December 8, 2023, 7:30 EST

To download the poster about this presentation, click here.

Sign up to receive information and announcements on future Big Ideas talks and Events here

For details about this series, click here.

---


---
Ottawa Bahá'í Centre



---
Bookstore, Library and Info-Centre hours:
Tuesdays, Wednesdays, and Thursdays, plus the first and third Saturdays of each month from 11:00 am to 2:00 pm.
(Note: closed on Bahá'í Holy Days and civic holidays)



Ottawa Bahá'í Centre's online Public Events:

click here.
---



The Bahá'í Faith from A to Z: 26 selected tenets, core beliefs and quotes from the Bahá'í Faith. Read Now!

---

Novermber 23, 2023


Second Annual Environmental Fair held at the Ottawa Bahá'í Centre
On September 30, the Ottawa Bahá'í Centre hosted the Second Annual Environment Fair organized by the Ottawa Cluster Environmental Group, a social action initiative of Bahá'ís and their friends from across the city of Ottawa.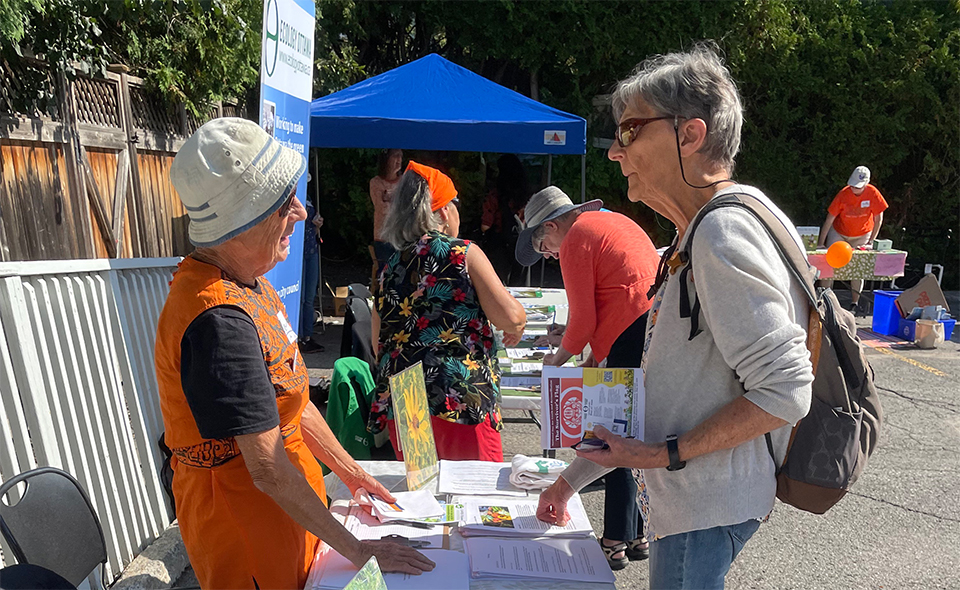 "We were very happy to welcome new participants and exhibitors this year," said Sherri Kelly, one of the event's organizers.

About 85 visitors and exhibitors took part. It was great to welcome new exhibitors this year, such as CAFES Ottawa, Community Associations for Environmental Sustainability, which advocates for biodiversity, healthy forests and tree canopy, climate action, and supporting the City of Ottawa's transition to sustainable waste management. The Ottawa Wildflower Seeds Library distributed free native seeds and provided advice on planting and care. The Rotary Club of Ottawa South shared information on its service projects including its Environmental Service. There was also a Kids' Zone where children could play the recycling game, colour and look at picture books with an environmental theme.

A number of popular exhibits from last year returned, including a tree seedling give-away, information on community gardens, attracting pollinators, and CSAs (community supported agriculture) that offer weekly vegetable baskets to subscribers. Greening Sacred Spaces, an organization providing information and assistance to faith communities on green initiatives. Several electric cars owned by Ottawa Bahá'ís were a hit once again and one of Ottawa's carsharing Communauto vehicles was an interesting addition. Ottawa's Carbon Capture Day Event team also returned. They distributed a paper on reducing greenhouse gas emissions and capturing and sequestering carbon through green spaces. more ...


October 28, 2023


George Ronald Publisher celebrate 80th Anniversary
This past spring, two members of the Ottawa Bahá'í community, Linda O'Neil and Heather Harvey, were thrilled to be part of the celebrations for the 80th Anniversary of the much beloved and prolific Bahá'í publishing company, George Ronald. Invitations had been sent out around the world to authors, book distributors, editors, illustrators, and others who had contributed to George Ronald over the years, and about 80 gathered for two days of events in a small village just outside of Oxford, England.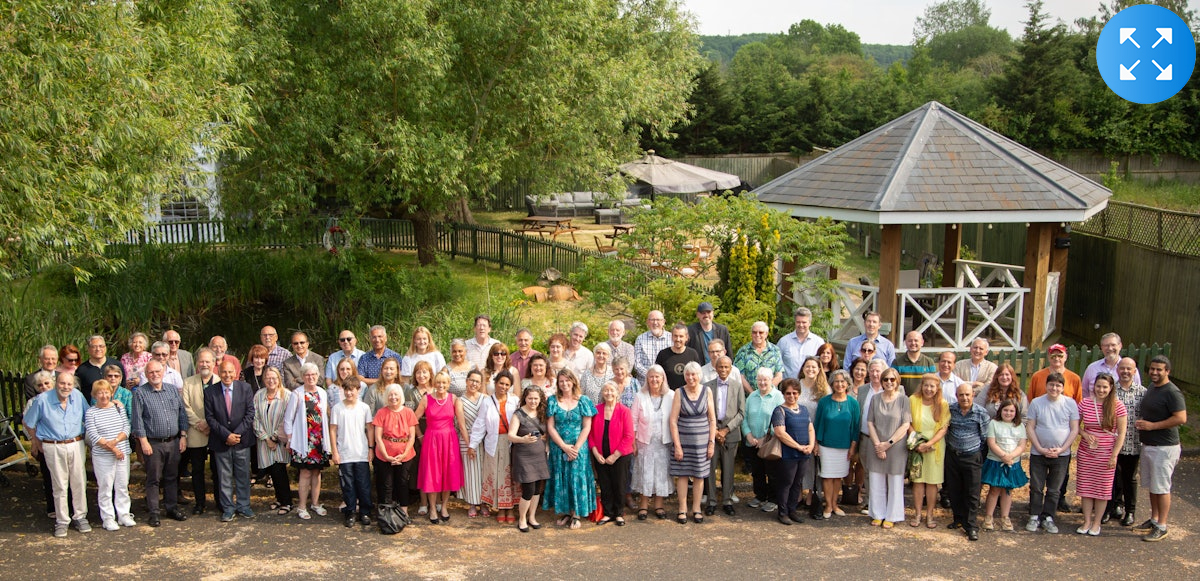 "I was so honoured and excited to be invited," said Heather Harvey, past manager of the Ottawa Bahá'í bookstore. "I had some money put aside from a trip that was cancelled at the beginning of the pandemic and couldn't think of a better way to use it."

Linda O'Neil added, "I was thrilled to meet Bahá'í authors I had long admired, such as Katherine Jewett Hogeson who wrote the recent biography of Horace Holley, and Earl Redman who has published many volumes of Bahá'í history."

The weather was gorgeous, roses were in bloom, and about 80 participants spent two days together listening to details of each other's projects and attending a presentation on the history and operations of the company. Not only were new friends made, but people who had only met on Zoom or by email were able to get to know each other in person.

George Ronald (GR) was founded in 1943 by a Bahá'í actor, David Hofman, who loved storytelling and was looking for a way he could be of service to the British Bahá'í community, even while he was busy most evenings and weekends on stage. When the company began, there were only occasional publications, but in 1947, the business was set up full time. In the beginning, books of both general interest and on Bahá'í topics were published. When, in 1963, David Hofman's service to the Bahá'í Faith took him to the World Centre of the Bahá'í Faith in Haifa, Israel, his wife Marion Hofman took over leadership of the company, and over time much of the editing and publishing work of the company has been done by women. more ...



September 21, 2023


ROBSI Summer School Finds New Home
What do you think of when you hear the words 'summer camp'? In the Ottawa area, children from Bahá'i families and their friends think of ROBSI (Rideau Ottawa Bahá'í Schools Initiative), a weeklong sleepover camp experience which has been in operation since 1986.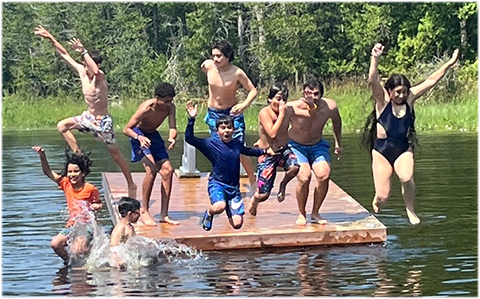 For the youngest camp group, referred to as the Junior/Senior Program (ages 8 to 13), this means making new friends as they swim, canoe, participate in arts and crafts and Bahá'í children's classes, sleep in rustic cabins and eat together in a large dining hall. Spending a week in a Bahá'í-inspired community setting far from the distractions of the city and surrounded by the beautiful Canadian outdoors, they learn about themselves, the virtues needed to be better people and ways they can contribute to making this world a better place. And of course, there is lots of fun to be had, like singing silly camp songs by the evening campfire, eating themed dinners like the 'shipwrecked spaghetti dinner' using awkward kitchen utensils such as spatulas or whisks they've randomly chosen without seeing them first. Science contests and experiments are a part of the fun as well: the 'great egg drop' is an amusing event where each group must safely drop an egg from a considerable height using a plastic ziploc bag, a meter of masking tape and any materials they find in nature.

A major challenge for ROBSI has been its over 30-year search for a permanent home. In the early years, it rented an outdoor education facility known as Camp Cameron near Perth, Ontario. When this venue was no longer available, ROBSI moved to a nature facility near Ladysmith, Quebec known as Au Grande Coeur. Although ROBSI was warmly welcomed there, it eventually outgrew this space, and so moved on to Camp Kalalla, a CGIT (Canadian Girls in Training) camp facility north of Wakefield. When the pandemic struck... more ...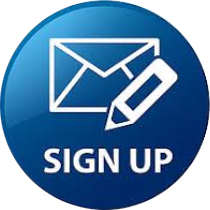 Sign me up to receive the latest news articles!
---